Artists
Juanes
Biography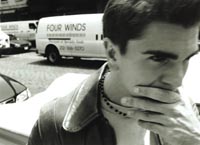 Before Juan Esteban Arizibal became a rock songwriter with a social conscience, he was the singer and guitarist of the metal band Ekyhmosis, a role he maintained for 11 years.
Looking for a new creative direction, Juanes sold his possessions, took his equipment to Los Angeles, and tried to shop his demo around.
Reknowned producer Gustavo Santaoalla heard the tape and agreed to work with Juanes on his solo debut. Fiajte bien was released in October 2000, and a year later, the album earned seven Grammy nominations.
Juanes' music fuses rock with such Latin forms as salsa and vallenato, a form of traditional Colombian music performed on the country's Carribean coast.
Juanes performed in the States as part of the Watcha Tour in 2001. Fijate bien ended up winning three Latin Grammy awards.
Posts