Artists
スネオヘアー (Suneo Hair)
Biography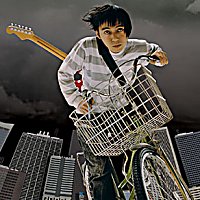 When Watanabe Kenji woke up one morning, he looked in the mirror and exclaimed "Ah! Suneo hair!" His hair that morning resembled a cartoon character from the children's animation show Doraemon. And the name stuck.
Now, Suneo Hair performs and records indie folk-rock along the lines of Badly Drawn Boy and Jason Falkner. He started playing guitar in his second year of junior high, forming cover bands with his friends.
In college, Watanabe put aside music to concentrate on drama. When he graduated, he pursued a career in acting till 1997.
Watanabe returned to music in earnest when he sent a demo tape of his songs to cafe au label in 1998. He hooked up with the band Sugar Fields as a support bassist, where he HARCO.
Suneo Hair released a few independent singles and albums before signing with Sony Music.
Posts